Home > Latest News >

Bravehearts celebrate 100,001 Tasmanian kids educated in personal safety!
September 14, 2018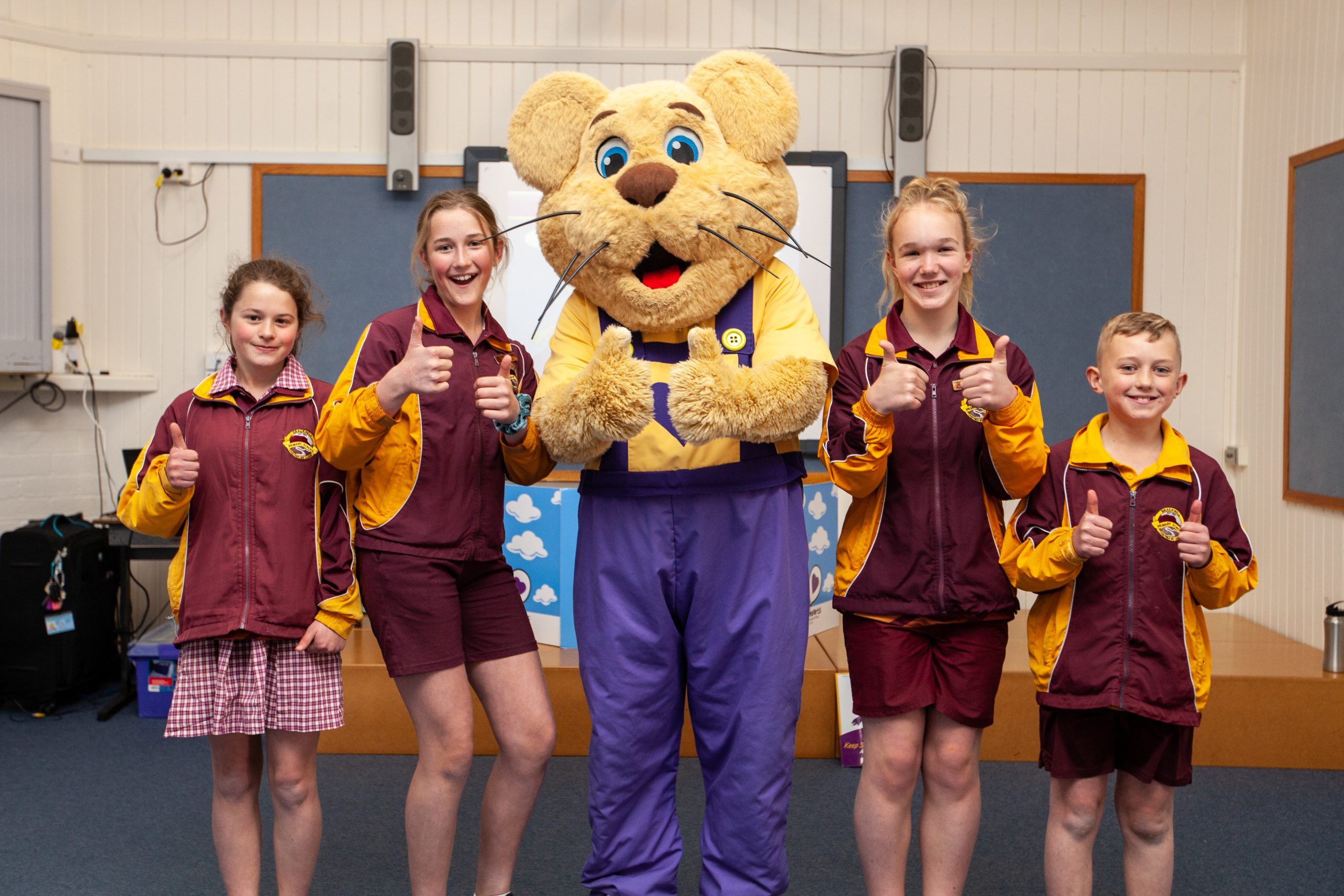 This week Bravehearts CEO Wilma James and the Bravehearts Education Team attended a special event at Bracknell Primary School to celebrate 'Ditto's Keep Safe Adventure Show' seeing its 100,001st Tasmanian child, and to thank the Tasmanian Government for renewed funding of $800,000 over the next four years.
Hosted by the school's Principal, Amanda Bird, Bravehearts' Tasmanian Education Team performed the Ditto Show for The Hon. Jeremy Rockliff, Tasmania's Deputy Premier and Minister for Education and Training who was on hand to announce the funding that would enable Bravehearts' personal safety program to continue in Tasmanian schools.
Since 2015, the Tasmanian Government has enabled Bravehearts' Ditto's Keep Safe Adventure Show to travel more than 120,000 kilometres to visit every community in all corners of the state to present the program at 181 (84%) schools multiple times. Ditto has also visited more than 50% of Tasmanian Child Care Centres.
Wilma James, Bravehearts CEO said, "Every child has the right to feel safe and thanks to the Tasmanian Government, this performance is a celebration of our Ditto's Keep Safe Adventure Show having seen more than 100,000 Tasmanian children.
"To date, Bravehearts has provided personal safety education to young children throughout every community in Tasmania and thanks to the generosity of the Tasmanian Government we can continue to deliver this vital personal safety program to the children of Tasmania."
Bravehearts' Ditto's Keep Safe Adventure Show is an interactive live education program which has been teaching children about personal safety since 2006 and seen almost one million children, nationally.
This highly effective education program, which has been independently evaluated three times, is delivered by Bravehearts' education facilitators to children aged 3 to 8 in primary schools and childcare centres.
The 30 to 40 minute live production teaches personal safety strategies and skills to help children stay safe in a range of situations from sexual assault to bullying.
The star of the Show is Ditto – a friendly, non-verbal lion cub in purple overalls, whose personal safety messages are facilitated via a specially trained Bravehearts educational performer. Ditto and the facilitator impart the educational messages using song, dance and child-friendly, age-appropriate language.
The show builds on children's instinctive understanding of feelings around their personal safety in a way that is non-confronting, safe and highly effective, focusing on Ditto's 'three rules':
We all have the right to feel safe with people.
It's ok to say no if you feel unsafe or unsure.
Nothing is so yucky that you can't tell someone about it.
These three rules underpin the program and help to support the five key areas of the show that break down into the following five key learning objectives:
Differentiation between 'yes' and 'no' feelings.
Recognition of 'warning signs'.
Identification of 'private parts' and body ownership.
Identification of language and feelings associated with secrets.
Action children should take if they feel unsafe or unsure.
Ditto's Keep Safe Adventure Show is facilitated by education teams in Tasmania, Victoria, NSW, South East Qld and Northern Qld, who collectively visit up to 2000 schools and early-learning centres annually along the East Coast, as well as in remote and rural communities as far north as Thursday Island and inland to Longreach and surrounding outback communities.
Last financial year, close to 126,000 children saw Ditto's Keep Safe Adventure Show. Thousands more learned personal safety skills via Bravehearts' Ditto teaching resources including the DVD of the Show, the Parent's Guide, Activity Book, learning kit and Ditto in a Box, with more than 99,000 personal safety learning resources sold or distributed free of charge to help keep Aussie kids safe.
Bravehearts is Australia's leader in child protection offering specialised training services for government organisations, educators in schools and childcare centres, education and support services for children and their families, while parents and carers can download free child safe information resources from HERE.