Home > Latest News >

Claude 'Mowerman' Harvey embarks on South Aus tour towards $2 million
March 20, 2019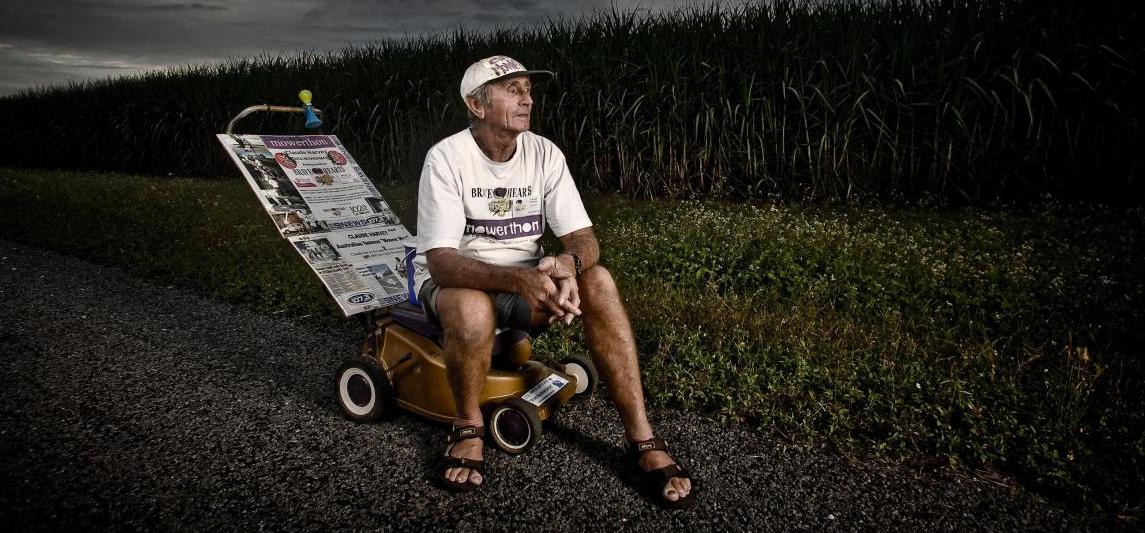 Claude 'Mowerman' Harvey tours South Australia this month in a bid to reach $2 million raised for child protection charity Bravehearts.
The 74 year-old champion for children begins his tour in the SA town of Renmark on March 4 and from there will continue travelling with his trusty lawn mower through rural SA towns until the end of the month.
Claude will travel more than 1100 kilometres in the 27 days, raising awareness about child protection and encouraging communities to dig deep and donate to Bravehearts.
Having already raised a staggering $1.1 million over the last decade for the charity, Claude has set his sights on reaching a new $2 million target by 2022. His goal is to raise $20,000 during this latest tour.
"Although fundraising is a big part of my tours, raising awareness about the horrendous crime of child sexual assault, and how to prevent it, is my primary mission," Claude said.
With fans and supporters turning out wherever he mows, Claude will meet with community leaders, visit shopping centres and talk with people in the streets about the importance of child protection and Bravehearts' programs. Claude is particulalry passionate about Bravehearts' personal safety education program, Ditto's Keep Safe Adventure Show:
"Ditto's Keep Safe Adventure Show stays in kid's hearts and I'm very excited about my upcoming tour and having the opportunity to talk with people about Ditto and how communities can help protect their children, including supporting the wonderful work of Bravehearts," he said.
"If I can save just one child from this crime that harms 1 in 5 Australian children, I will have achieved what I've set out to do."
Bravehearts' founder and executive chair, Hetty Johnston AM, said, "Claude has made and continues to make an extraordinary contribution to child protection in Australia, with every dollar raised devoted to Bravehearts' child protection programs.
"Instead of putting his feet up and enjoying retirement, for more than 12 years Claude has dedicated his twilight years to Bravehearts and child protection and we are forever grateful for his remarkable contribution," she said.
See below for Claude's full tour schedule and if you are in the area, keep an eye out for him, drop a couple dollars in his collection tin, and take a few minutes to have a yarn. After all, it's not every day you get to meet a national treasure.
You can follow Claude's adventures on Facebook at facebook.com/ClaudeTheMowerMan 

For interviews with Claude 'Mowerman' Harvey, please contact Steven Ashworth on (07) 5552 3000.
CLAUDE 'MOwerman' harvey's SOUTH AUSTRALIA TOUR DATES
Monday 4-Mar Renmark
Wednesday 6-Mar Pinnaroo
Thursday 7-Mar Bordertown
Friday 8-Mar Naracoorte
Sunday 10-Mar Penola
Monday 11-Mar Mt Gambier
Thursday 14-Mar Robe
Friday 15-Mar Murray Bridge
Sunday 17-Mar Strathalbyn
Tuesday 19-Mar Victor Harbor
Thursday 21-Mar Mount Compass
Friday 22-Mar Mount Barker
Sunday 24-Mar Hahndorf
Monday 25-Mar Gawler
Thursday 28-Mar Lyndoch
Friday 29-Mar Tanunda
Saturday 30-Mar Nuriootpa