ditto's keep safe adventure
PERSONAL SAFETY EDUCATION for early learning to year 3
Children can begin learning valuable lessons to help keep them safe from as young as 2-3 years old. Providing age-appropriate information around body ownership and the right to be safe from an early age allows for these messages to become part of the child's everyday language and helps to build self-esteem and resilience in children. Read on for more information about Bravehearts' personal safety program for young children, Ditto's Keep Safe Adventure Show.
incursion for childcare centres and primary schools
Ditto's Keep Safe Adventure Show stars Bravehearts' lovable lion cub Ditto, alongside a specially trained presenter. This fun, interactive live show teaches children essential personal safety skills and knowledge using age appropriate language, song and dance.

Ditto's Keep Safe Adventure Show is aimed at children aged 3 to 8 and is delivered in early learning centres and lower primary schools to children of all abilities. This fun and interactive personal safety program has reached hundreds of thousands of Australian children since its inception in 2006.
Delivered by experienced facilitators, the show duration is 30 to 40 minutes, depending on the age group (shorter show for younger children). Independent evaluation of the Ditto Show suggests the principles of personal safety embedded in the program can help to increase resilience, and reduce the risk of child sexual assault as well as other forms of abuse, including family violence and bullying.
What will children will learn? 
Following is an overview of the Ditto show content. Please note that some of the content described below is omitted from the Early Years (i.e. childcare) version of the show to ensure age-appropriateness and brevity for a young audience. Both the Early Years and Lower Primary School versions of the Ditto show are underpinned by the following six principles of personal safety:
Differentiating 'yes' and 'no' feelings
Recognising the bodies 'warning signs'
Body ownership
Helping children identify language and feelings associated with secrets
Reinforcing that there is no secret that children cannot tell someone
What to do if you feel unsafe or unsure
We aim to teach children these essential principals through songs such as 'Run and Tell (someone you can trust)' and 'Private Parts (they belong to me)'.
Children also learn 'Ditto's 3 Rules', which are:
We all have the right to feel safe with people.
It's ok to say NO if you feel unsafe or unsure.
Nothing is so yucky that you can't tell someone about it.
As part of the program, children are each given a Ditto's Keep Safe Adventure Activity Booklet to take home (primary school program only). We encourage parents and/or teachers to look at the booklet with the children, using the activities to help cement the personal safety messages from the show.
How do we access the program? 
Bravehearts Education Teams currently service the following states/areas:
Tasmania
Victoria
South East Queensland
Northern NSW
Far North and regional Queensland
For schools and childcare centres outside our service areas wishing to access the learnings from Ditto's Keep Safe Adventure Show, Bravehearts has Ditto in a Box. Ditto in a Box is an extensive resource kit for the teaching of personal safety to young children.
FAQs about Ditto's Keep Safe Adventure Show
How often should we be talking about this with our children?
It's a good idea to revisit personal safety strategies with young children on a regular basis because they learn well through repetition and reviewing the concepts. This could include up to four times a year or more, depending on how a young child retains or understands the information. We have visual and audio resources to assist such as our 'parent pack' to reinforce key messages presented in the Ditto's Keep Safe Adventure Show. This also allows the key messages to be communicated using a selection of different styles such as interactive activities, games, colourful posters and music.
How do we help them work out who is a safe person?
Young children need a support network of trusted adults they can talk to if they ever feel unsafe or unsure. This support network should include trusted adults from their family or school but also contain contacts and phone numbers from official and recognised authorities. Parents and carers should also be aware of 'who' each contact is on their child's plan.
This is an activity that needs revisiting on a regular basis because support contacts can change, move away or become no longer available to help.   We have a Helper Plan template in our Activity Book that can also be found in our Parent Packs.
It is also a good idea to discuss why they have chosen their adult supporters and a good moment to explore the meaning of trust and who they perceive to be a safe person and how they feel about them.
How do you name the body parts and why don't you use the anatomical names in the show?
The private parts are named using everyday terms in the show.  They are identified as 'the mouth, the chest, between the legs and the bottom.'  This is accessible language for all abilities and easy to understand for lower primary. We do not use the anatomical names in the show as the right support, scaffolding and parental permission are ideally required before these names are introduced to young children.
We provide an optional (not compulsory) activity using anatomical names in our 'in-class' resource specifically for teachers, which is aligned to the AU Physical and Health National Curriculum.  Once again, parental permission could be required before introducing the names in class depending on the age of the children and the school policy.
Are we able to get a copy of the songs in the show?
Yes, copies of the songs available on CDs can be ordered from our online shop. The songs help young children remember the key messages from the show including Yes and No Feelings, Warning Signs, Private Parts, Secrets and Run and Tell. There are 2 versions available with the same lyrics but slightly different music styles produced for 0-4 years and 5-8 years engagement but we use the 0-4 years version for the songs in the Ditto's Keep Safe Adventure Show.
After seeing the program, how will my child determine safe people?
There are many factors to consider when identifying 'safe' people but to explain the methodology used in the show, we base this heavily around children's emotional literacy. Emotional literacy is all about your feelings, identifying and recognising different kinds of feelings and 'how' to manage your feelings. The show presents tools to help young children begin to recognise when they could be in an unsafe or unsure situation and importantly, what to do next to gain help.
Short examples are used to practise recognition of feelings in a safe platform that include positive and negative emotions, warning signs in the body,  and what to do if you feel unsafe and unsure.
The show also presents the 'Helper Plan', which is a template for children to nominate their support network of trusted people to talk to when they feel unsafe or unsure. The education team take time to present this at the end of the Ditto's Keep Safe Adventure Show and encourage this activity to take place in the classroom or with parents.
Why does my child need to see this program?
Educating children from a young age to recognise when they feel unsafe or unsure can assist in the process of reporting and gaining the support they need to protect them from harm.
The skills acquired through this program can also be applied to other scenarios that cause children to feel unsafe or unsure (examples include bullying, domestic violence, respect for privacy ) The show also teaches them to be resilient and to keep on trying to seek the assistance they need to be safe.
What age is just too young to see the Ditto's Keep Safe Adventure Show?
Children below the age of three may not be able retain or fully understand the concepts presented. We recommend the gradual use of stories, posters or songs for much younger children to introduce concepts one at a time.
It is challenging for very young children to understand and retain all the key messages presented in the show due to their minimum amount of life experience and their ability to concentrate for the duration of time it is presented (being between 25-35 minutes).
Is this sex education?
Ditto's Keep Safe Adventure Show does not involve sex education and essentially presents safety strategies that lead towards seeking the appropriate support to gain assistance.
The show includes identifying the private parts of the body and body ownership as part of the process but at no point is the word 'sex' referred to or 'sexual intercourse' explored or explained.  The private parts are identified and names using everyday terminology that includes the mouth, the chest, between the legs and the bottom. This language is accessible for different kinds of learners and it is worth noting we do not use anatomical names in the show being an inappropriate platform for introducing them.
Where do you travel to?
We have 6 teams located along the Eastern Board of Australia stretching from Cairns down to Tasmania.
For more remote schools and centres, we have produced a DVD of the show and have our Ditto in a Box 'in-class' resource which can either complement the show or work as a stand alone program of study.
How will my child be empowered by the Ditto Show?
Children will be empowered by the tools that are presented to help them recognise the difference between a safe and unsafe scenario and what to do to gain assistance.
The following content is stepped through to assist this process:
Recognition of feelings
Recognition of warning signs
Body ownership
Understanding different secrets
Who to tell when you need help
One of the main aims of the show is to encourage young children to develop a support network and to realise it is OK to ask for help when they feel unsafe or unsure. In addition, the show stresses the importance of resilience in terms of not giving up if you can't find help the first time you try.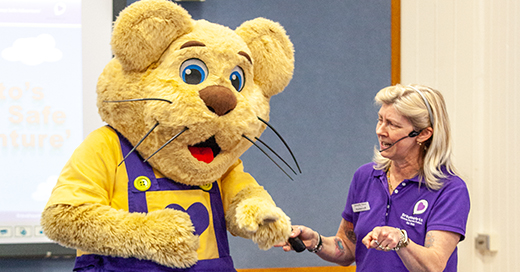 Book online today and a member of our education team will give you a call to confirm.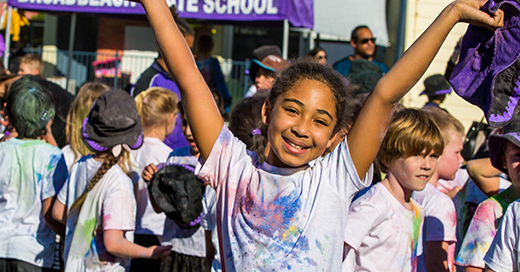 FUNDRAISE WITH A SCHOOL FUN RUN
Need help raising funds to get the Ditto Show to your school? Why not consider holding a Bravehearts School Fun Run to cover the costs of the show?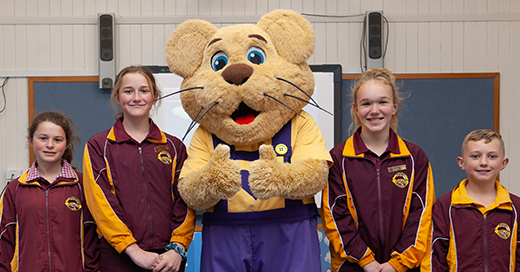 Need more information about the show such as costs? Complete our contact form and a member of our education team will be in touch.
An essential part of every Primary School program. Enjoyable, entertaining and educational.
Geelong East Primary School