Home > Latest News >

Torres Strait kids learn personal safety with Bravehearts
November 28, 2016
More than 600 Queensland school children in the remote Torres Strait last week learnt important personal safety skills through Bravehearts' acclaimed education program 'Ditto's Keep Safe Adventure'.
The protective behaviours program was delivered to kids in primary schools and childcare centres on Horn, Thursday and Boigu Islands by the intrepid Bravehearts Cairns education team.
The 40-minute live production has visited more than 650,000 Australian children aged three to eight since 2008, educating them with strategies and skills to stay safe in a range of situations from bullying to sexual assault.
It is delivered through six strategic locations across Australia including South East Queensland and Cairns and will educate a record number of children in 2016 with an increasing number of schools, child care centres and communities playing a key role in prevention.
"Preventing child sexual assault starts with educating and empowering children with vital knowledge and skills to keep safe and encouraging teachers, carers, parents and other members of the community to play their part in creating child-safe environments," says Bravehearts Founder Hetty Johnston AM.
"Since Ditto's Keep Safe Adventure was introduced it has really been embraced by schools and early learning centres which have given us a significant boost towards our commitment to reaching every Australian child with our child safety message.
"The beauty of the program is that the rules Ditto teaches children are incredibly simple and effective, making it easy for parents and carers to reinforce the safety messages at home in a non-confronting way."
The trip has been made possible thanks to the generous contribution of Kristy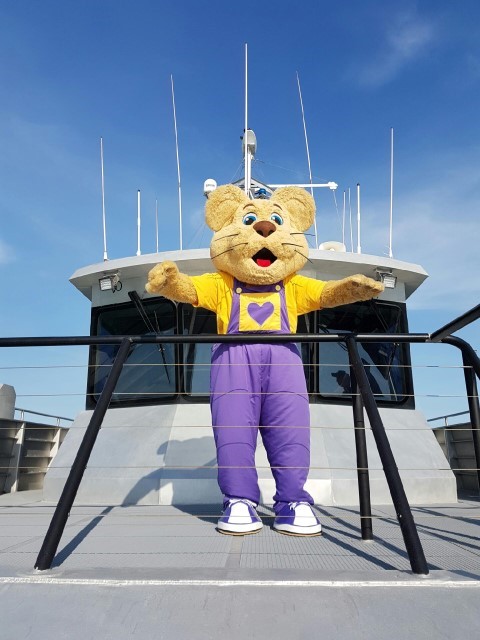 Wilson (Police CPIU Thursday Island); Thursday Island Police; Horn Island Police; Queensland Government Air; Thursday Island Blue Light Association, The Grand Hotel Thursday Island; Jardine Hotel Thursday Island and Horn Island Ferry & McDonald Charter Boats.
Bravehearts' Vision is to make Australia the safest place in the world to raise a child with its child safety blueprint The Three Piers to Prevention – Educate, Empower, Protect.
Ditto's 5 Principles:
 Based on Bravehearts' Ditto Keep Safe Adventure program, the 5 basic principles we need to teach our children (remember: it's never too early to sow the seeds of personal safety) are:
1)  To trust their feelings and to distinguish between 'yes' and 'no' feelings
2)  To say 'no' to adults if they feel unsafe and unsure
3)  That they own their own bodies
4)  That nothing is so yucky that they can't tell someone about it
5)  That if they feel unsafe or unsure to run and tell someone they trust.
Would you like to talk to someone? Bravehearts is here to help 1800 272 831