Home > Latest News >

Bartercard and Bravehearts in partnership for 10+ years
November 24, 2020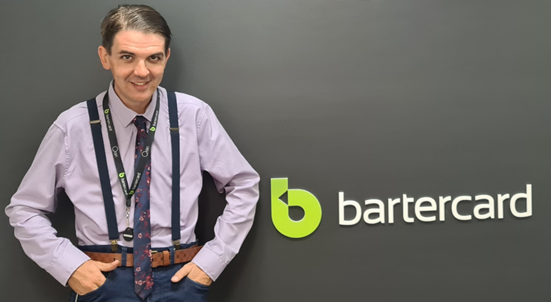 Bravehearts' Corporate Partnerships Manager, Michelle, recently sat down with Bartercard Account Manager Brian Byrne (pictured above), to chat about their decade long partnership with Bravehearts. 
How long has your company been operating?
Bartercard has been operating for 29 years and continue to be one of the world's largest B2B Bartering networks.
What is the size of your company?
There is approx. 70+ staff currently employed by Bartercard. These staff range from Administrative to Marketing to Account Managers who service the 10,000 strong merchant base across Australia alone. In total globally, there are close to 150 staff through 5 countries.
What does your company specialise in?
We specialise in supporting business owners to generate additional customers who pay using trade dollars.  This reduces a business' idle capacity and when spending the additional trade dollars earned, the business saves valuable cash.
What drove you to support Bravehearts?
Bravehearts has done so much for so many it was an easy choice to support them.  In addition, the team always goes the extra mile and are always happy and excited to hear our ideas and see how we can work together to implement them.
How do you support Bravehearts? What initiatives has your company put in place to support Bravehearts either financially or through raising awareness?
We annually support White balloon day and supported the 1st annual golf day (our innovation partner company Qoin took home team first prize!!).  We are always happy to lend the team at Braveheart's a hand, even if its supplying a new fridge for the office, or finding an alternative Company via our connections to supply/donate products needed for The Mackay centre which we where unable to source direct.
How has supporting Bravehearts added value to your business?
Supporting Bravehearts gives us unique opportunities to build our brand and gain connections but mostly it's the feeling inside knowing our support is making a difference.
How long has your company been supporting Bravehearts?
I have been with Bartercard for almost 10 years and we were already supporting them when I started, so this has been a long term partnership and we see no end in sight to our support.
In your opinion, why is Bravehearts an important and relevant organisation?
Because the work they do to bring awareness and support to child protection or anyone needing assistance is inspirational.
Why is child protection important to you?
I cannot stress how important it is that no child or anyone for that matter should suffer. These children are the future of the nation and the world and they should be nurtured and loved. It is all of our collective choice and responsibility of how we treat our children.
If you would like more information about becoming a Corporate Partner for Bravehearts, please email Michelle at partnerships@bravehearts.org.au