August 8, 2019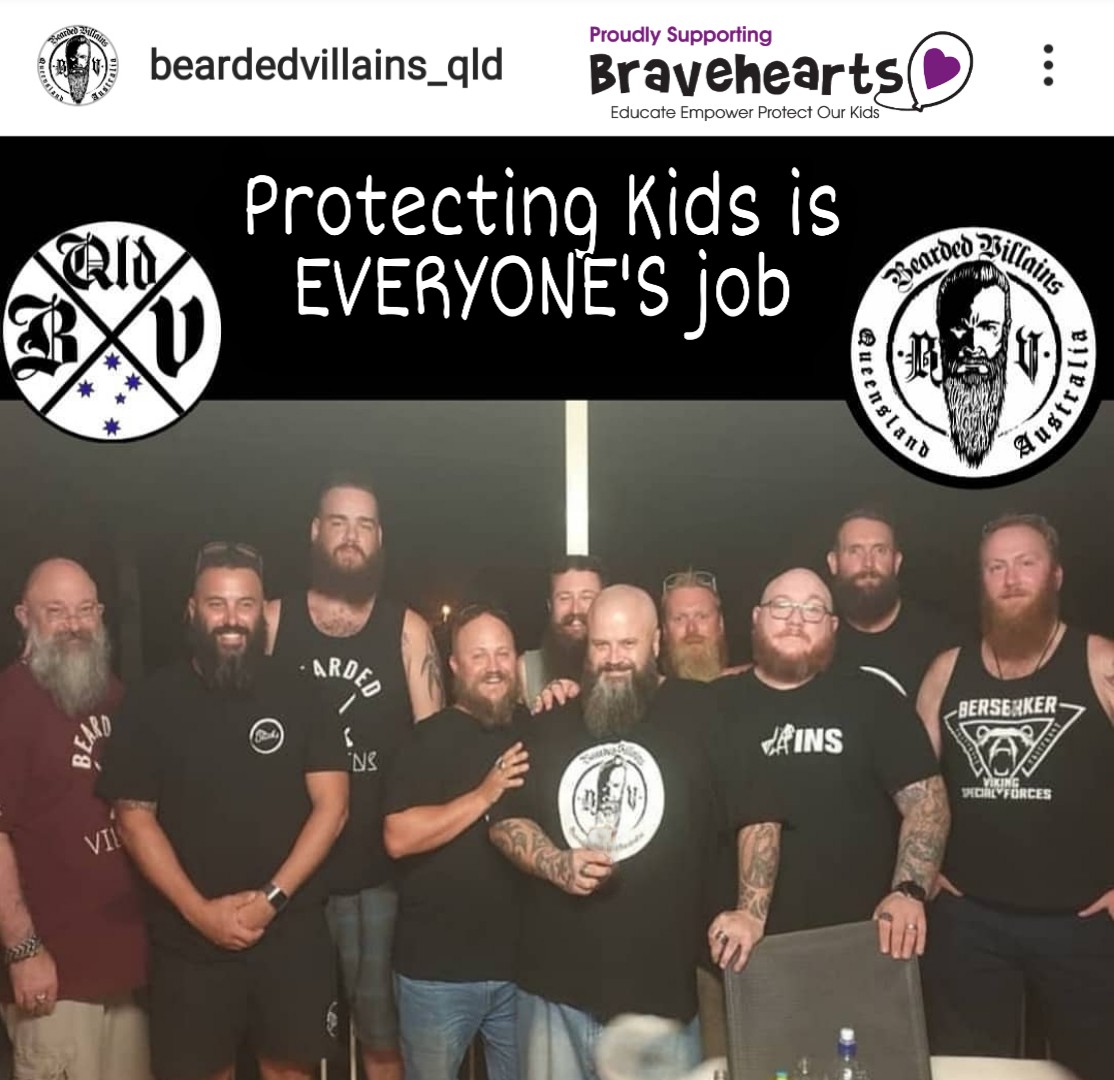 Steve is a Bearded Villian – a Lieutenant and Scout no less. He's also a really caring guy who just happens to work as a Case Manager for Bravehearts.
Steve (third from the right in the photo above) and his fellow Bearded Villians Brothers are putting on a charity fundraiser night with all proceeds going to Bravehearts coming up on August 31 at Alexandra Hills Hotel, Brisbane.
Ahead of the Bearded Villains Australasia Meet and Bravehearts Fundraiser we sat down with Steve to get the low-down on the event and why SEQ locals should come out and support it.
Tell us about the event – what will be happening on the night?
This a meet, so basically a big gathering of Bearded Villains from all over Australia and NZ. We are having Bands, a Beard Competition, as well as some Merch on sale. We will also have both myself and another Bravehearts Representative speaking on the night.
What is Bearded Villians all about and what does the group stand for?
We are a brotherhood of elite bearded men from all over the world. Dedicated to The Beard, Charity, Family, Respect, and Loyalty. Our mission statement is "To Unite Bearded Men of all cultures, races, creed and sexuality in a Brotherhood devoted to Loyalty, Honour and Respect toward all people, dedicated to the betterment of mankind through fraternity Charity and Kindness."
The group was originally Established in 2014 in the U.S. Our Brotherhood has grown worldwide now and organically took shape of its own. Our Chapters activities are Charity Work, Support, Respect, and Loyalty to THE BEARDED VILLAINS BROTHERHOOD.
Why should people come along to support the night?
This is an event to support Bravehearts and celebrate breaking away from the norm in society where men with tattoos and beards are seen as scary/biker types. These men in Bearded Villains are all wanting to make a real difference in this world and we all thoroughly align ourselves with Bravehearts mission to make Australia the safest place in the world to raise a child, because it is EVERYONE'S job to keep kids safe. If this is how we can help do that we will.
Why did the group choose to support Bravehearts this year?
The Queensland chapter voted for 5 charities we could support this year and Bravehearts won the vote unanimously. I admit I advocated for Bravehearts fairly strongly, but that is because I believe in Bravehearts and our goals with every fibre of my being.
If you would like more details about the event you can find them HERE.
Check out the Bearded Villian official Facebook page HERE.