Home > Latest News >

Bravehearts launches PERSONAL SAFETY GUIDE for parents to kick off National Child Protection Week
September 3, 2018
For National Child Protection Week, Australia's leading child protection advocate Bravehearts, today launched their FREE Personal Safety Parents' Guide to help Australian parents better protect their children.
Every 90 minutes a child is substantiated as having been sexually assaulted in Australia – that's 1 in 5 children who are sexually harmed in some way before their 18th Birthday accounting for 58,000 children in all corners of Australia, every year.
To help empower parents to protect their children from sexual harm Bravehearts' FREE Personal Safety Parents' Guide gives parents and carers insight into the myths and facts about child sexual assault and valuable guidance on personal safety education for their children.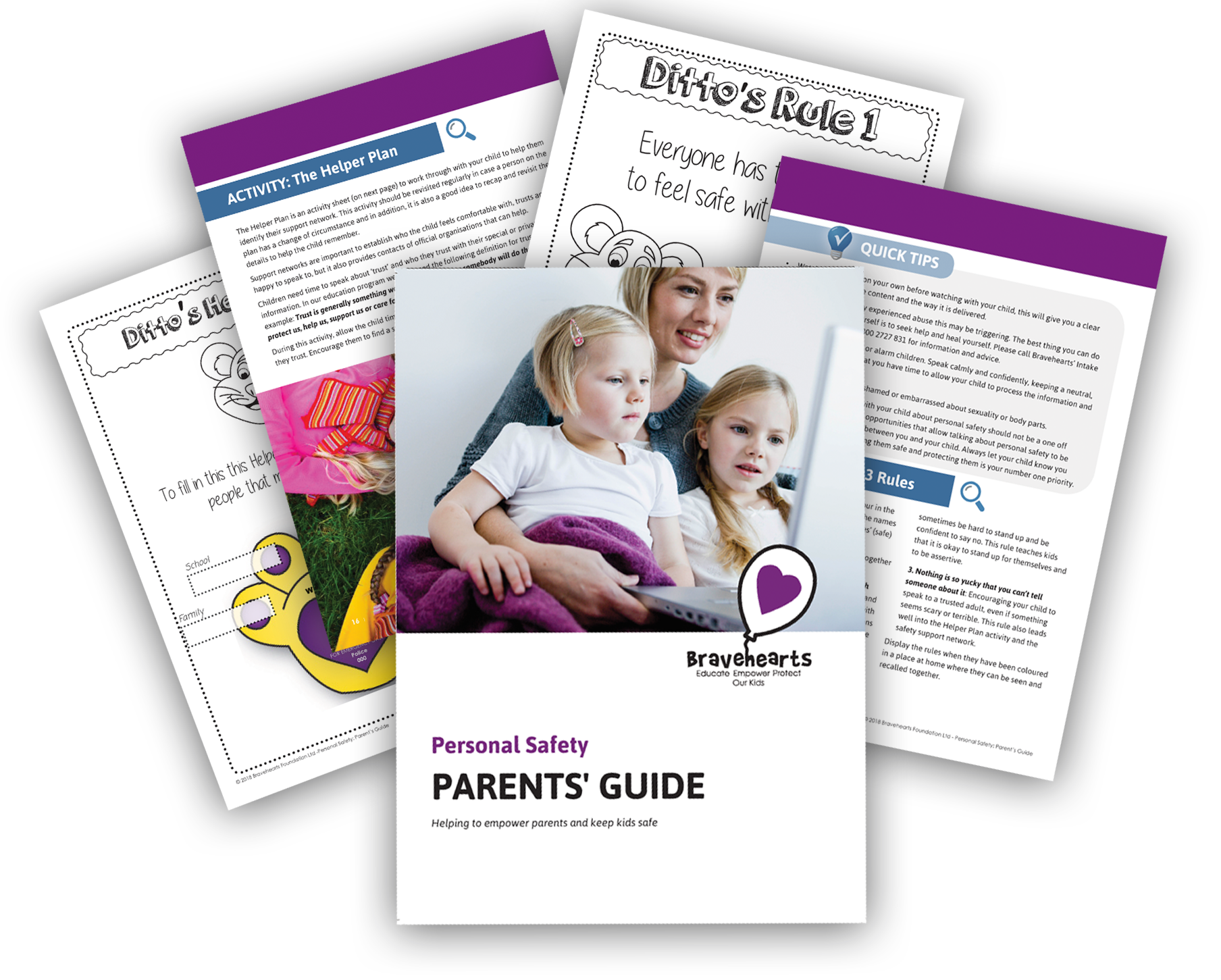 The Guide provides tips for keeping children of all ages safe online and simple step-by-step activities for teaching children personal safety, based on Bravehearts' acclaimed Ditto's Keep Safe Adventure program that has helped to educate almost 1 Million Australian children in personal safety since 2006.
Bravehearts' Guide, developed by their education and research experts, gives parents and carers FREE access to easy-to-follow information for teaching children simple personal safety strategies. These strategies can help kids build confidence and resilience in a variety of situations, including online.
Hetty Johnston AM, Founder and Executive Chair of Bravehearts said, "There is nothing more important than protecting our children and now every parent and carer can ensure they are better informed on the steps they need to take to help protect their children from harm.
"All Australians need to understand that child sexual assault is a crime that can potentially affect any family regardless of race, religion, gender and economic status – it doesn't discriminate.
"One of the most important things we can do is to empower our children to identify when something doesn't feel right, and to talk to and tell a trusted adult without fear of consequences.
"The Guide provides parents with tips on how to teach children simple strategies that, through practice, will become second nature and help them build their confidence and resilience empowering them with skills and knowledge to reduce their vulnerability to harmful situations and individuals.
"As part of National Child Protection Week we're urging every parent and carer to ensure they download Bravehearts' FREE Guide so they can teach their children about personal and online safety.
"Every Australian child has the right to feel safe and by helping parents and carers to empower their children with personal safety skills; together we can help prevent child sexual assault and make Australia the safest place in the world to raise a child," said Ms Johnston.
Bravehearts is also inviting community support for National White Balloon Day on Friday 7 September by making a donation to help Bravehearts break the silence surrounding child sexual assault.
#WBD2018 #ProtectKids #bravehearts #ChildProtectionWeek #WhiteBalloonDay #BeBalloonSafe #1in5