Home > Latest News >

CAUSE FOR CELEBRATION AS BRAVEHEARTS' 'DITTO' DELIVERS PERSONAL SAFETY EDUCATION TO ONE MILLIONTH CHILD
October 30, 2019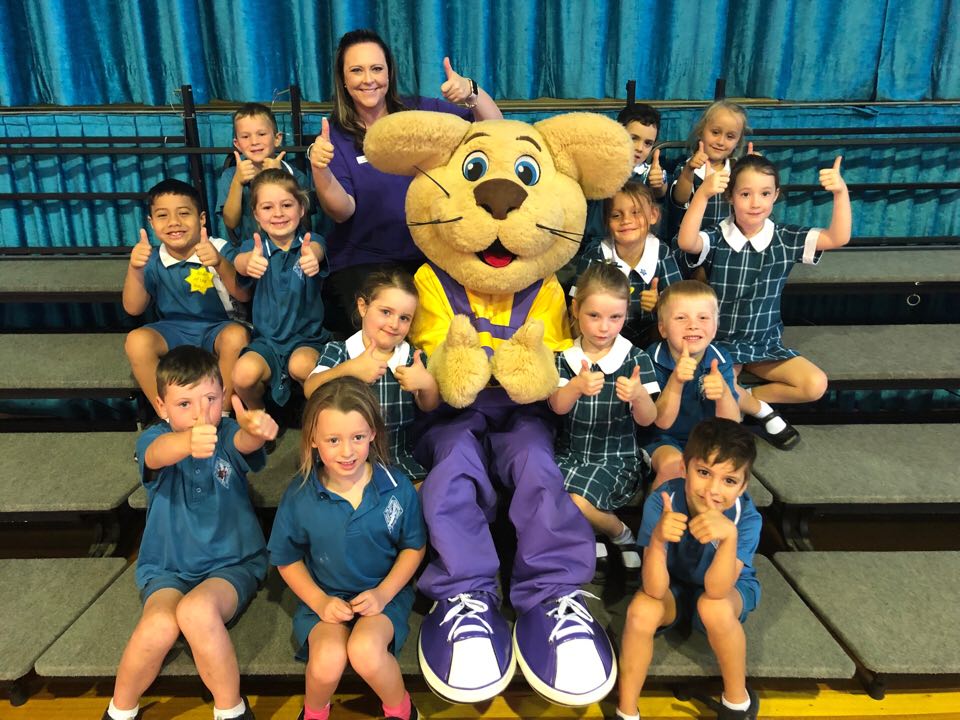 Bravehearts is celebrating a monumental milestone, with Ditto's Keep Safe Adventure Show having reached its millionth child!
Thirteen years after 'Ditto' the lion cub first shared his personal safety message with Aussie youngsters aged 3 – 8 the powerful, effective yet non-confronting messages have now been presented to more than one million children.
In addition, Ditto's Keep Safe Adventure storybooks and resources have been distributed to every primary school in NSW while tens of thousands more children and parents have benefited from downloading our Ditto personal safety resources.
Ditto's Keep Safe Adventure Show is delivered face to face in early learning centres and lower primary schools across Queensland, New South Wales, Victoria and Tasmania using age-appropriate language, song and dance to teach children essential personal safety skills and knowledge.
Bravehearts founder Hetty Johnston said Ditto's remarkable effort to reach one million children was one of the organisation's greatest legacies.
"When Ditto first walked on to the stage in 2006, we never dreamed that he would have seen one million youngsters by 2019," said Ms Johnston, who founded Bravehearts in 1997.
"At the time there was nothing out there like this. We knew children desperately needed personal safety education delivered in a fun and interactive way to empower and protect them. Our little lion club with a big heart has allowed us to do just that.
"It's overwhelming to think that more than a million Australian children have sung and danced along with Ditto, but more powerful is the knowledge that they have walked away from his shows with the tools to help them recognise times when they feel unsafe or unsure and what to do to get help.
"We are super proud to know that Ditto has helped educate so many little children, that he has prevented so much harm as well as having positively impacted on the safety and resilience for so many children. It's fun, it's safe and it works! Now Ditto is aiming for his next million. " Hetty said.
Independent evaluation suggests the principles embedded in Ditto's Keep Safe Adventure Show can help increase resilience and reduce the risk of child sexual assault, as well as other forms of abuse including family violence and bullying.
"Child sexual assault is a difficult topic for adults to discuss, let alone children, and that's why parents and educators are so appreciative of Ditto's Keep Safe Adventure Show," Ms Johnston said.
"By providing age-appropriate information around body ownership and the right to be safe from an early age, these messages become part of a child's everyday language as well as their teachers, parents and care-givers. Ultimately, Ditto gives everyone the simple words to discuss personal safety in a fun interactive way, without causing fear and by instilling the confidence to speak up when something doesn't feel right.
"One of the main aims of the show is to encourage young children to realise it is OK to ask for help when they feel unsafe or unsure and to not give up if they can't find help the first time they try."
Delivered by experienced facilitators, Ditto's Keep Safe Adventure Show runs for 30-40 minutes, with shorter shows for younger children.
Primary school children are also given an activity booklet to take home, with parents and/or teachers encouraged to look through it with them to help cement personal safety messages from the show.