Home > Latest News >

HOMETOWN HERO RETURNS TO GOLD COAST FOR ANOTHER EPIC LAWNMOWER PUSH
September 11, 2019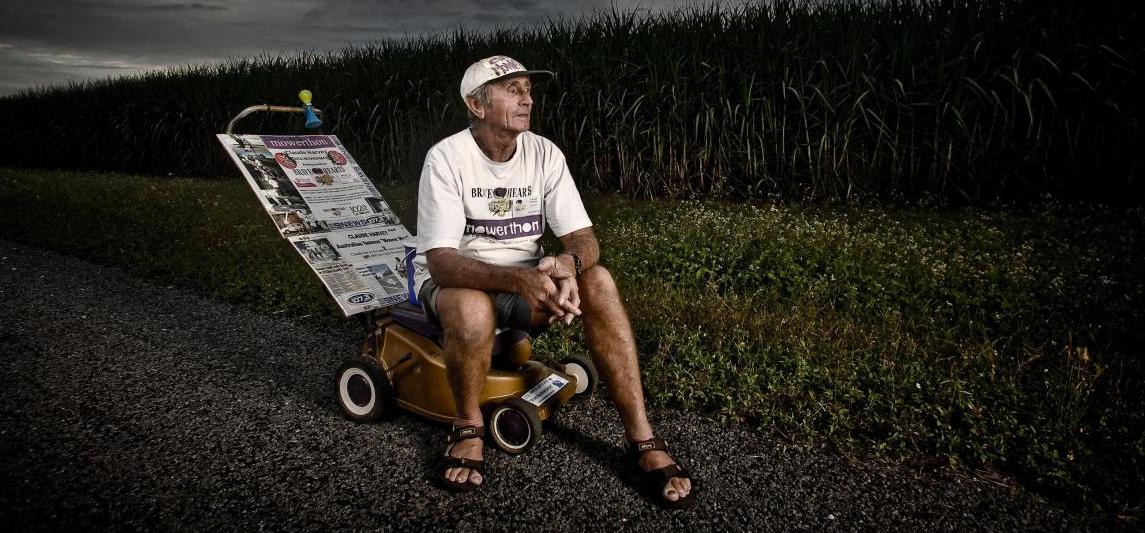 Claude Harvey is bringing his trusty lawnmower back to where it all began – the Gold Coast.
The inspiring 74-year-old, who treks the country raising awareness of child safety and funds for leading child protection organisation Bravehearts, will tackle a 16-day return journey from Coolangatta to Hope Island from September 9 following National Child Protection Week.
And while most people will feel tired just reading of his feat, it's a relative stroll in the park for Mr Harvey who has already ticked off a 27-day tour of South Australia and 38-day pilgrimage of regional Queensland in recent months.
A Varsity Lakes resident, the grandfather of six completed his first mower push for charity in 2000 and has since raised a staggering $1.2 million for Bravehearts, becoming a modern-day folk hero along the way.
Mr Harvey's next challenge will see him walk the familiar streets of Coolangatta, Palm Beach, Burleigh Heads, Broadbeach, Surfers Paradise, Southport, Runaway Bay and Hope Island across eight days before turning around and heading back to where he started.
"As a proud Gold Coaster, it's always a thrill to return home and relive that first walk I completed almost 20 years ago," said Mr Harvey, who has covered tens of thousands of kilometres in his trademark sandals across every Australian state.
"The city has always been so supportive of my efforts by not only donating vital funds to the Bravehearts cause but allowing me to raise awareness of the importance of child protection in our community.
"Child sexual assault is both a horrendous crime and difficult topic, but I've been able to talk with countless people about how we all have a role to play in protecting our society's most vulnerable souls.
"Raising such awareness is my primary mission and I'm looking forward to catching up with old and new friends as I make my way through the streets of the Gold Coast in September."
Mr Harvey, who is aiming to raise $2 million for Bravehearts by 2022, will meet with community leaders, visit shopping centres and talk with locals during his walk.
Bravehearts founder Hetty Johnston AM said she was in awe of Mr Harvey's ongoing commitment to the charity's cause.
"Words can't do justice to how grateful I am for all the hard work Claude has done for Bravehearts since he first put up his hand to help us," she said.
"Never in my wildest dreams did I imagine he would end up raising more than $1.2 million for our child protection programs, with every dollar helping us get closer to making Australia the safest place in the world to raise a child.
"Importantly, Claude's personable nature has also allowed him to share the child safety message with hundreds of thousands of people and that's something money can't buy."
Bravehearts provides world-class child protection training and education initiatives, specialist child sexual assault counselling and support services, and research and reform campaigns to work holistically to prevent child sexual assault in our society.