Home > Latest News >

Murray Passes Muster as Bravehearts' First Therapy Dog
March 16, 2023
Murray Passes Muster as Bravehearts' First Therapy Dog
A newly qualified four-legged 'therapist' has just joined Bravehearts' counselling team, with Murray the dog finally earning his stripes to provide emotional support and regulation to children in counselling as a Therapy Dog.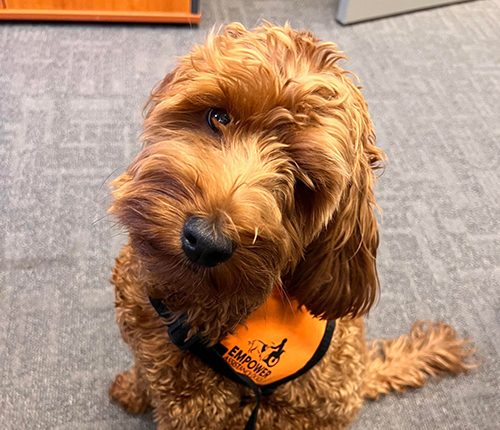 Murray's journey to becoming a fully qualified Therapy Dog began two years ago when he first joined Bravehearts as a pup, under the dedicated and loving care of his handler, Lauren Wilson (Bravehearts' Turning Corners and Intake Manager).
Though Murray's presence in head office was fun, this little 'Spoodle' (Cocker-Spaniel cross Poodle) had some serious work to do before being allowed to meet our young clients. Qualifying as a Therapy Dog takes time, patience and specialist training for both dog and handler.
'The dog must have great social skills, plus a training program and assessment to ensure it is a suitable and reliable candidate to do the role of supporting clients or patients. It must also have a stable temperament and great health,' states Australian Assistance Dog organisation, Empower Assistance Dogs, where Murray got his qualification.
Lauren worked to prepare Murray for his assessment, ensuring he learned good manners, basic obedience and was well socialised with children, adults and other dogs. He had to be taught skills in order to interact appropriately with people of all developmental and physical abilities, as well as remain calm and maintain good social behaviour in a variety of environments.
Murray's big test day finally came last month, passing with flying colours! He is now the proud owner of his very own 'Assistance Dog' vest and an official certificate. The Bravehearts team could not be prouder to see the little guy get the tick of approval to start his important work helping children affected by trauma.
The use of therapy animals has been shown to have positive outcomes for children and young people, with researchers observing the animals are effective in decreasing trauma-related symptoms like depression, anxiety, and other PTSD symptoms (O'Haire, Guérin, & Kirkham, 2015; Germain, Wilkie, Milbourne & Theule, 2018).
"The response so far from the children he's worked with has been overwhelmingly positive. The children absolutely love him," says his handler Lauren.

"Just him being there with them in the room gives them comfort and helps keep them calm and regulate their emotions," she says.
Murray lives with Lauren and her family and works in Bravehearts' head office on the Gold Coast three days a week. He takes plenty of time out in Lauren's office (and gets lots of cuddles from staff) when he's not assisting children.
What is this good boy like when he's at home and off the clock?
"He's playful and cheeky and loves to have his ears massaged," she says.

"His favourite game ever is fetch."
The Bravehearts Therapy Dog Project is funded by Coca-Cola Australia Foundation.
PICTURED ABOVE: Murray proudly wearing his official Assistance Dog vest.
REFERENCES:
Germain, S.M., Wilkie, K.D., Milbourne, V.M.K., & Theule, J. (2018). Animal-assisted psychotherapy and trauma: A meta-analysis. Anthrozoös, 31(2), 141-164. DOI:  10.1080/08927936.2018.143404
O'Haire, M.E., Guérin, N.A., & Kirkham, A.C (2015). Animal-assisted intervention for trauma: A systematic literature review. Frontiers in Psychology, 6, 1-13