Home > Latest News >

RESCUE MISSION ENSURES BRAVEHEARTS CONTINUES TO SPREAD CHILD SAFETY MESSAGE IN CURRUMBIN PARK
January 24, 2020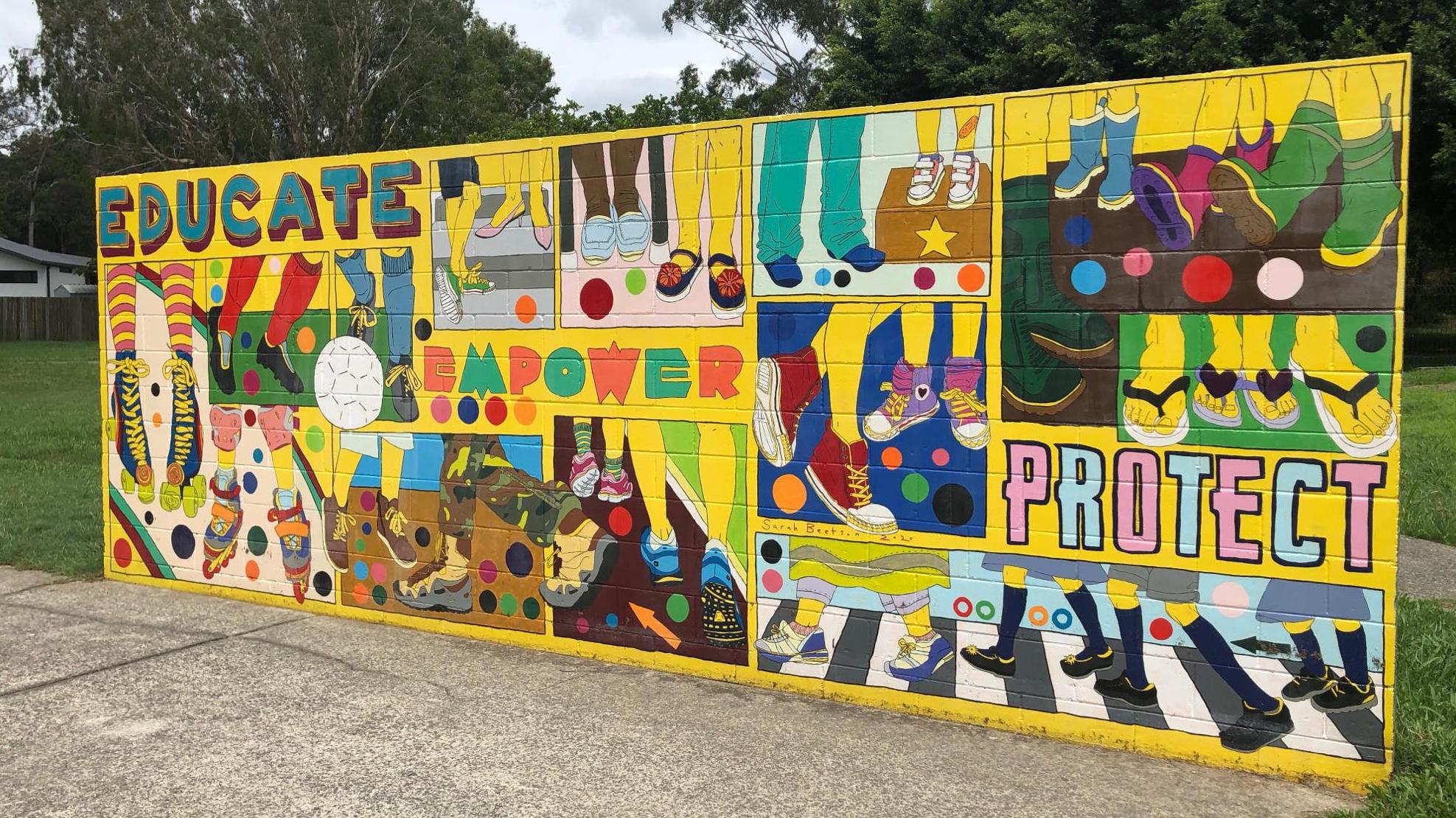 An iconic Currumbin mural urging the community to protect our most vulnerable souls will live on after a rescue mission involving a passionate councillor, a talented artist and Australia's leading child protection advocate.
Bravehearts aims to educate, empower and protect children from sexual assault and this has long been promoted via a colourful brick wall at Galleon Park, Currumbin.
However, with the artwork having deteriorated in recent years, council workers were set to paint over the mural in white – until Division 14 Councillor Gail O'Neill stepped in.
Working with Bravehearts, she secured council funding to commission local artist Sarah Beetson to give the mural a new lease of life with the words 'EDUCATE, EMPOWER, PROTECT' incorporated to signify that individuals from all walks of life have a role in caring for the safety of our children.
Bravehearts Chief Executive Officer Alison Geale said the charity was overjoyed that its message would continue to reach people who visited Galleon Park.
"Awareness is essential to our cause and Sarah has not only created a striking and vibrant artwork but one that will gently encourage people to consider what they can do to make a difference in the fight against child sexual assault," she said.
"This hideous crime is a difficult subject to raise, especially with youngsters, but through the efforts of Cr O'Neill and Sarah, more families from Currumbin and the wider Gold Coast will be inspired to do so."
Cr O'Neill said she did not hesitate to explore other options when she learned council officers were set to paint over the original Bravehearts mural.
"While the mural was in need of repair, it would have been a tragedy for Bravehearts to lose the opportunity to promote their cause in a park that is incredibly popular with the people they most want to reach – children and families," she said.
"I'm a great admirer of the work done by Bravehearts and every little thing we can do to help educate, empower and protect our children is worth it."
Boasting more than 80 colours from the Resene Lumbersider range, the mural features illustrations of children's feet alongside those of adults of various professions, ages and backgrounds including a nurse, soldier and elderly woman.
Ms Beetson has also incorporated Bravehearts' famous purple heart logo in the mural via a pair of purple thongs and dancing baseball boots featuring big hearts.
"The response to the mural from the community has been overwhelmingly positive, which makes me so happy as I wanted it to reflect and represent them," Ms Beetson said.
"I loved that while I was painting the artwork, I saw lots of kids roller-skating and playing football in the park and those are the kinds of activities that are in the mural.
"Many of my local friends have been wanting to know the exact location of the mural so they can come and take selfies with their kids, which is great news for the Bravehearts cause."
The mural is at Galleon Park, 59 Galleon Way, Currumbin.