Home > Latest News >

Claude 'The Mowerman' Harvey set to tour Gold Coast City for Child Protection Week
September 1, 2021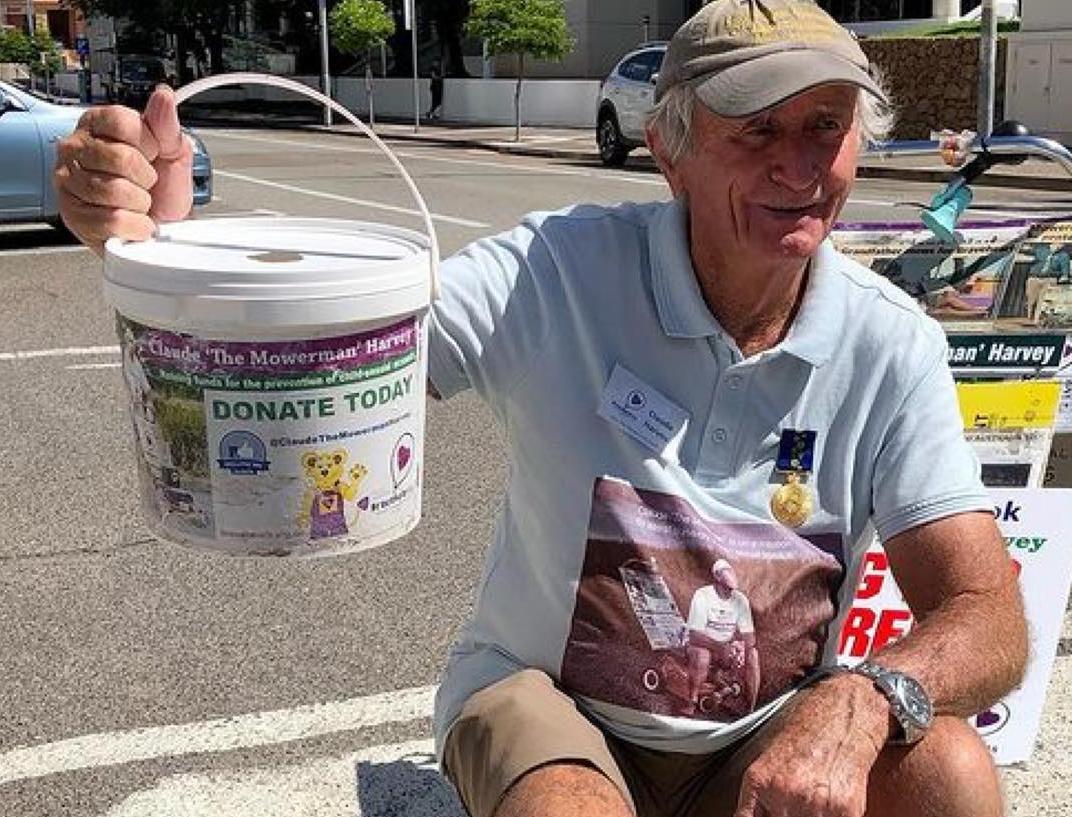 Claude 'The Mowerman' Harvey is set to once again mark Child Protection Week and Bravehearts' White Balloon Day with a tour of Gold Coast City, starting in Coolangatta on Monday, September 6.
Gold Coast local Claude has been a dedicated fundraiser for Bravehearts for over a decade. To date, the 76 year-old has raised over $1.3 million for the cause and is well on the way to achieving his goal of raising $2 million!
A passionate advocate for the prevention of child sexual abuse, Claude is especially vocal in his support for Bravehearts' personal safety program Ditto's Keep Safe Adventure, which he believes every child in Australia should have access to.
Claude has completed many journies across various parts of Australia in the last 10 years, pushing his lawnmower in support of Bravehearts and child protection. Along the way he is always supported by Bravehearts staff and volunteers, as well as hotel and motels (where his accommodation is often donated), shopping centres, local councils, local businesses and of course members of the community.
You can support Claude by making a donation directly to his online fundraising page, or by donating directly to the man himself if you see him on his travels.
Claude's Gold Coast City Child Protection Week Tour

//

 Itinerary
 Monday, September 6
Start 9am – Coolangatta (The Strand) // Finish – Palm Beach
Tuesday, September 7
Start – Palm Beach // Finish – Burleigh Heads
Wednesday, September 8
Start – Burleigh Heads // Finish – Broadbeach
Thursday, September 9
Start – Broachbeach (Hi Ho Hotel) // Finish – Surfers Paradise
Friday, September 10
Start – Surfers Paradise // Finish – Southport
Saturday, September 11
Start – Southport // Finish – Runaway Bay
Sunday, September 12
Start – Runaway Bay // Finish – Paradise Point
Monday, September 13
Start – Harbourtown Shopping Centre // Finish – Harbourtown Shopping Centre
Tuesday, September 14
Start – Chirn Park // Finish – Labrador
Wednesday, September 15
Start – Main Beach // Finish – Surfers Paradise
Thursday, September 16
Start – Surfers Paradise // Finish – Broadbeach
Friday, September 17
Start – Broadbeach // Finish – Burleigh Heads
Saturday, September 18
Start – Burleigh Heads // Finish – Palm Beach
Sunday, September 19
Start – Palm Beach // Finish – Coolangatta