Home > Latest News >

Claude 'The Mowerman' sets sights on regional Queensland
March 23, 2021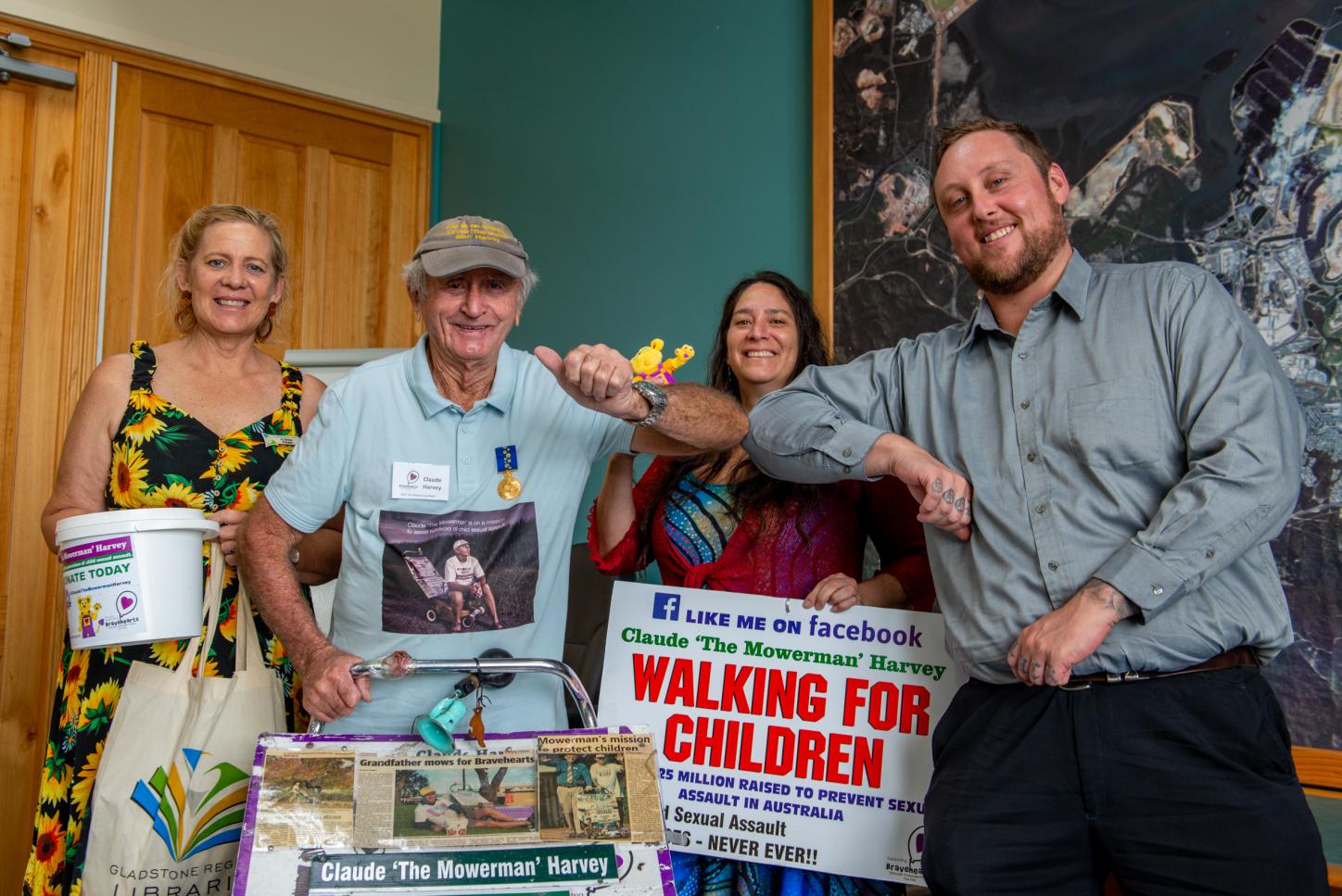 Claude 'The Mowerman' Harvey has set off on his latest fundraising trip, touring from Gladstone to Townsville visiting regional towns along the way.
Kicking off his tour yesterday in Gladstone, Claude with Councilors Desley O'Grady and Natalia Muszkat, and Deputy Mayor Kahn Goodluck (pictured) for morning tea at Gladstone Regional Council offices.
Claude, who has been a dedicated fundraiser for Bravehearts for over a decade and has raised almost $1.3 million for the cause, is a passionate advocate for child protection. He is especially vocal in his support for Bravehearts' personal safety program Ditto's Keep Safe Adventure, which he believes every child in Australia should have access to.
You can support Claude by making a donation directly to his online fundraising page, or by donating directly to the man himself if you see him on his travels.
Claude's Itinerary: Gladstone to townsville tour
22 – 24 March – Gladstone
25 March – Calliope
26 – 27 March – Biloela
28 March – Rolleston
29 March – Springsure
30 March – 1 April –  Emerald
2 April – Alpha (via Anakil)
3 – 4 April – Barcaldine
5 – 7 April – Longreach
8 – 9 April – Winton
10 – 12 April – Cloncurry (Via Kyuna and McKinlay)
13 – 15 April – Mount Isa
16 – 17 April – Julia Creek
18 – 19 April – Richmond
20 – 21 April – Hughenden
22 – 24 April – Charters Towers
25 – 27 April – Townsville